Get 5% discount on your first purchase using Discount Code RMW-FIRST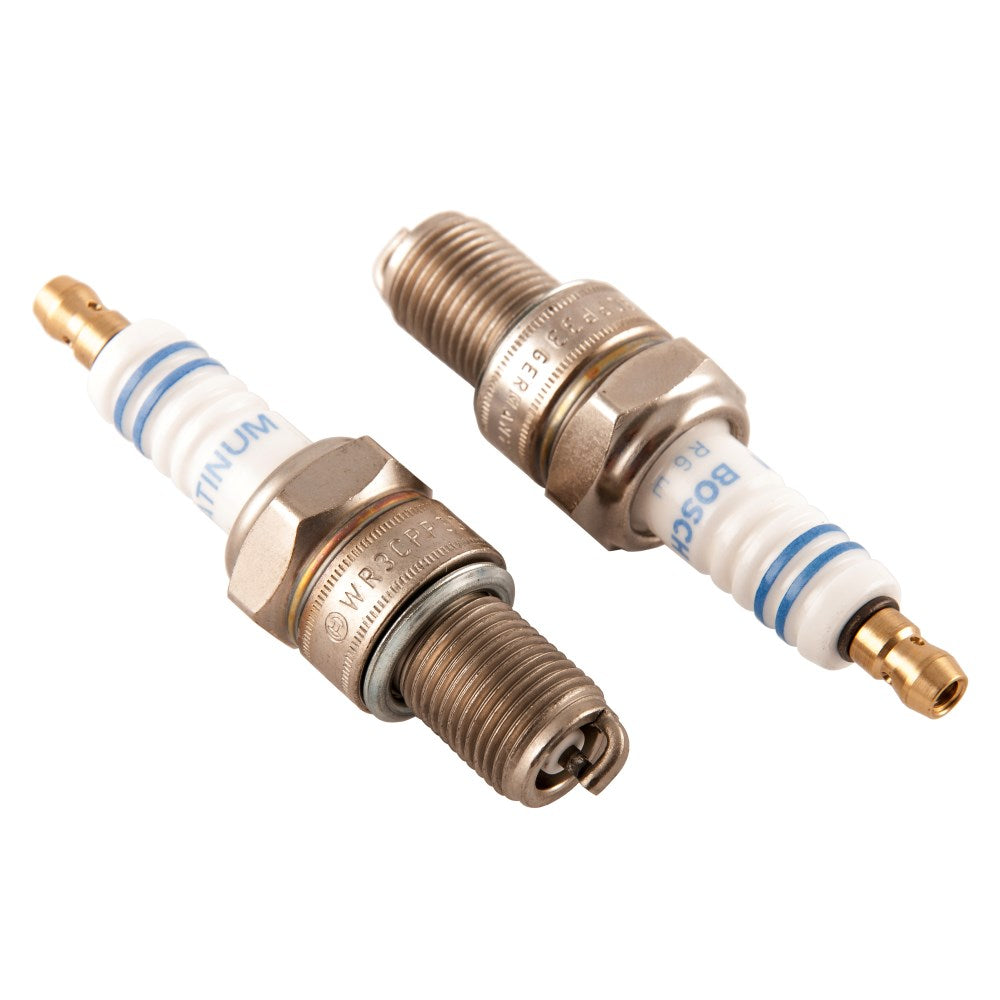 Spark Plug BOSCH ®
7311/WR3CPP33/0 242 255 512
£18.48
ex. VAT
( £22.18 including VAT )
High performance Bosch® industrial spark plug.
NO LONGER AVAILABLE SEE ALTERNATIVE ( GE3-1 RN79G ) 
| | |
| --- | --- |
| Engine Make | Model |
| Caterpillar | G3306, G333, G343, G3304, G3400 Series |
| Dorman | 3DAG, 4DAG, 6DAG, 6QG, 6SEG, 8SEG, 12SEG, 6SETCWG Min Nox, DATG-4 |
| General Motors | 305, 351, 401, 478, 702 Gasoline and LPG |
| John Deere | 300 Series |
| Liebherr | G 924T, G 924TC, G 926T, G 926TC, G 926TC 40 |
| MAN | E 0824 E301, E0824 E302, E 0826 E301, E0826 E302, E 2842, E2842 LE, E 2843 LN, E 2876 |
| Perkins | G4-203, G4-236, 900 Series |
In stock for immediate delivery
additional information
Advantages
Bosch® spark plugs Bosch® spark plugs have been around from the birth of the spark-ignition engine. Since then, they have been continually improved in close coordination with vehicle manufacturers. New generations of spark plugs have emerged, now Bosch® has a wide-ranging program to satisfy the most varied engine requirements. Ensuring economical fuel-consumption and low emission rates, Bosch® offers the best possible spark plugs for every engine. Bosch® Industrial Spark Plug manufacturing Bosch® has expanded its industrial spark plugs range covering many applications especially designed for gas operated engines. Cogeneration has gained importance for more than 3 decades due to various reasons such as increase in prices and uncertainty of fuel supplies and also decreased pollutant emissions. Governments worldwide, Europe, and South East Asia are supporting the use of cogeneration as an efficient method of generating electricity and heat. The trend has not seen a decline ever since and continues to gain more ground. As users of these engines, our customers know how demanding these machines can be, especially on spark plugs. And more so the conditions are worse when the spark plugs are operated in landfill or biogas. Landfill gas for example contains about 50% methane and around 50% carbon dioxide which, when compared to natural gas, is non-homogenous and far below energy content. To top it, small traces of sulphur compounds, silicon, halides and water vapor in has landfill gases makes it highly corrosive. This calls for spark plugs that can withstand such harsh operating conditions. With over 100 years of spark plug engineering experience, Bosch® Industrial double iridium spark plug with both the electrodes and other components of the highest quality interweaves performance and value like no other!
Find Out More
We are an independent spark plug specialist with more than 25 years' experience supplying pre-chamber spark plugs and other components for gas-fired industrial engines.
If you are unsure of the part you need, please contact us withdetails of your engine, and we can advise you about the best pre-chamber spark plug to fit your application.