Get 5% discount on your first purchase using Discount Code RMW-FIRST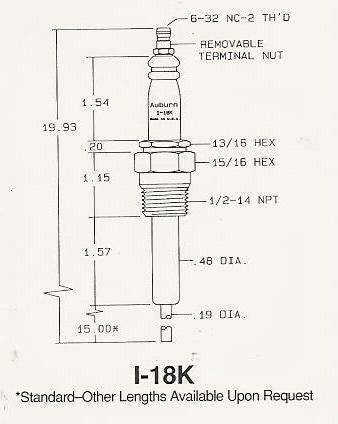 Auburn® Igniter
I-18K
£108.30
ex. VAT
( £129.96 including VAT )
Each.
Auburn® industrial igniter.
Available from manufacturer. Please contact us for details.
additional information
Advantages
The origins of Auburn® date back to 1910, when two small companies. "The Auburn® Igniters Company" and "The New York Mica and Manufacturing Co." began manufacturing spark plugs using mica as an insulating material. These companies merged to form the Auburn® Spark Plug Company, which produced spark plugs for automotive and industrial applications for the next eight decades. After the Second World War, Auburn® expanded its product line, and developed its technology for the emerging markets of the next half of the century. Auburn supplied an igniter for the X-15 manned rocket, insuring engine ignition at high altitudes. Auburn's® industrial market grew with the addition of electrical feed-throughs, liquid level control electrodes, flame rods and observation ports. During the 1970s, Auburn® manufactured turbine igniters for AC Spark Plug Company, a division of General Motors®. These igniters were designed for the aviation industry and are used throughout the world by major airlines. In 1981, Auburn® acquired the rights to design, manufacture and market AC's entire line of aviation igniters and spark plugs. In 1977, the Auburn® Spark Plug Company became a wholly owned subsidiary of SL. Industries, located in Mt. Laurel, New Jersey. Until 1998, the company's name has been SL Auburn®, Inc. Auburn® was acquired by Champion® in May of 1997. At the time, Champion® was owned by Cooper Automotive which was owned by Cooper Industries. In October 1998 Cooper Industries sold the Automotive division to Federal Mogul®. Today Auburn® products are continued by Champion® and all it's products are manufactured in the Champion® production plants in the US and Mexico. Product groups: • Auburn® Burner Ignitors • Auburn® Flame Rods • Auburn® Liquid Level Electrodes • Auburn® Electric Feedthroughs • Auburn® Observation Ports
Find Out More
We are an independent spark plug specialist with more than 25 years' experience supplying pre-chamber spark plugs and other components for gas-fired industrial engines.
If you are unsure of the part you need, please contact us withdetails of your engine, and we can advise you about the best pre-chamber spark plug to fit your application.