Professional maintenance and servicing is a vital aspect of owning and operating Combined Heat and Power (CHP) plant engines. With a proactive approach to maintenance, you can reduce the likelihood of breakdowns, diagnose serious problems at an early stage, and keep your lifetime cost of ownership low. However, carrying out maintenance yourself might not be feasible, especially if you lack the resources or skills in house. That is where specialist third-party CHP maintenance companies come in. In this article, we will discuss everything you need to know about third-party maintenance for CHP plant engines.
Why Is CHP Maintenance Important?
Maintenance is essential for keeping your CHP plant engines running efficiently and productively, and for sustaining good energy and fuel consumption. Maintenance involves regular cleaning, oil changes, and inspections. A proactive approach to maintenance ensures that minor issues are identified and fixed before they become major faults. Some of the tasks can be conducted by your engineers in-house. However, these daily checks are no substitute for routine professional servicing, which we recommend for any CHP unit at least once or twice per year. By engaging a third-party maintenance company, you can ensure that your CHP plant engines are sustained in good working order, and this reduces the risk of unexpected breakdowns.
What Are The Benefits Of Taking Out Third-Party Maintenance?
Engaging a third-party specialist CHP maintenance company has several advantages. Firstly, it can save you money, especially if you lack the time or equipment to undertake maintenance yourself to the same standard. Secondly, third-party maintenance companies already have experienced engineers who are trained to carry out maintenance on CHP plant engines, saving you money and resources on training. They have the appropriate tools and equipment in place to diagnose and fix problems quickly and efficiently, enabling rapid troubleshooting, and minimising downtime and inconvenience for your business.
When Is The Right Time To Get Third-Party Maintenance Cover?
The best time to take out third-party maintenance is when you purchase your CHP plant engine, or when the manufacturer's warranty expires. Many vendors offer maintenance contracts for their CHP plants, but these increase in price once the unit reaches the end of its warranty. For older machines, independent third-party maintenance is often more cost-effective than support through the vendor. The cost of maintaining an engine increases as it reaches the end of its working life cycle. However, even if your CHP plant engine is approaching end of life, professional maintenance can still benefit productivity and efficiency. If your engine has been affected by poor maintenance practices or has a history of breakdowns, soliciting the support of a professional maintenance provider can help to restore it to optimal condition.
How Do I Choose The Right Third-Party Maintenance Company?
When choosing a third-party maintenance company, there are several factors to consider. Crucially, you will need to ensure that the company has experience in maintaining CHP plant engines. Look out for vendor-approved accreditations and partnerships as a sign of expertise and reliability. Response times and the availability of spare parts are also important, so we usually recommend working with a maintenance business with an engineer presence and supply depot in your local area.
What Is The Cost Of Third-Party Maintenance?
The cost of third-party maintenance varies depending on the model, age and condition of your CHP plant engine. Typically, newer engines require less maintenance, parts are easier to source, and the cost is lower. Older engines may require more maintenance, and it may not be as easy to source parts, therefore the cost may be higher.
High Quality CHP Spare Parts From R&M Walsh Ltd.
At R&M Walsh Ltd., we provide a range of high-quality CHP spare parts for both users and maintenance providers. For a competitive quote or to find out more about our range, please get in touch today.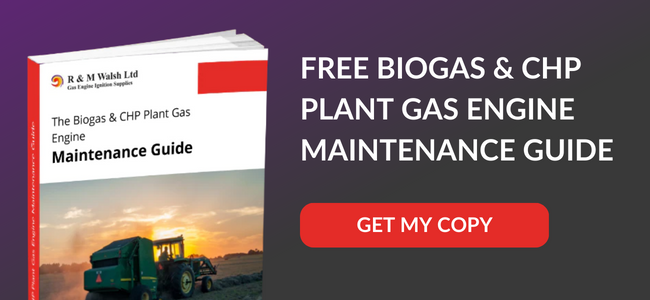 Image Source: Canva