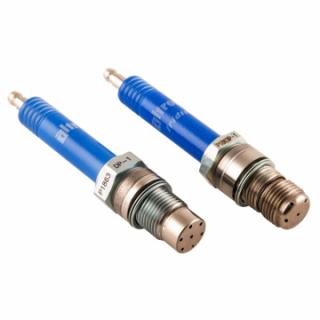 R&M Walsh is proud to supply a full range of pre-chamber spark plugs to fit a variety of industrial gas engines.
The same range as available from Hatraco, the pre-chamber spark plugs we provide are more efficient than many conventional spark plugs, reducing NoX emissions and energy consumption.
What Are Pre-Chamber Spark Plugs?
A pre-chamber spark plug is used in the engine's pre-combustion chamber. Energy discharge is distributed over a larger surface area, which concentrates fuel in the spark gap – resulting in better control over gas pressure during discharge and lowering the electrode temperature.
Pre-chamber spark plugs, therefore, offer superior safety and performance to some alternatives, as well as a longer service life due to reduced electrode erosion.
Pre-chamber spark plugs require a lower operating voltage in high-pressure engines.
They are also less susceptible to short-circuits and misfires, even in the presence of moisture.
Pre-Chamber Spark Plug Advantages
These pre-chamber spark plugs are among the best on the market. As official UK suppliers, we are one of your best sources for pre-chamber spark plugs, offering a personalized service, full manufacturer's warranty, and wide stock availability.
Competitive pricing
Long service life
Low maintenance
Improved engine performance
Reduced gas consumption
Reduced misfires
Find Out More
We are an independent spark plug specialist with more than 25 years experience supplying pre-chamber spark plugs and other components for gas-fired industrial engines.
If you are unsure of the part you need, please contact us with details of your engine, and we can advise you about the best pre-chamber spark plug to fit your application.
For a free quote or to place an order, please call 01782 983376 or click here to send us a message.