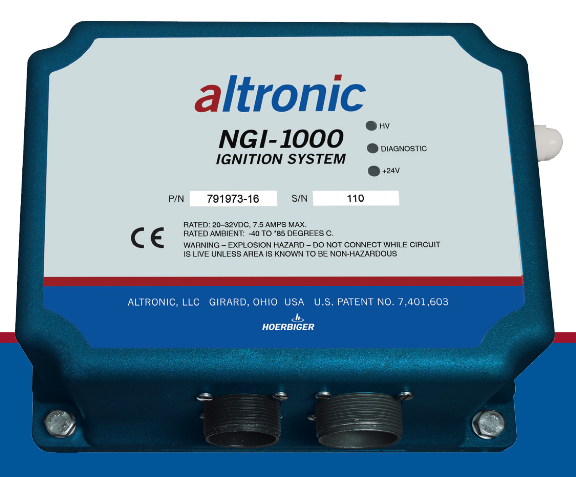 The Altronic NGI-1000 ignition system is a new, advanced, digitally controlled all-in-one gas and biogas ignition controller built for use with industrial combustion engines. It's aimed at simplifying and automating gas ignition control for industrial systems.
All NGI-1000 systems process angular pickup input signals from a single pickup (magnetic, Hall-Effect, or powered inductive) which senses drilled reference holes, magnets and/or protrusions on a steel disc to time spark plug ignition bursts. Frequency, strength, and intensity can be altered via a piece of Windows-compatible software. It's also Modbus RTU-compatible if you're looking to add remote control
Altronic recommends the NGI-1000 for use with lean or difficult-to-ignite gases. The adaptable, responsive nature of Altronic's digital ignition system means that it's superb at achieving complete combustion. It's equipped with fourth-generation design and technology, making it more efficient at turning a mixed intake into kinetic power than ever before.
What Engines & Sources Is The NGI-1000 Compatible With?
The Altronic NGI-1000 is recommended for use with small and medium-scale natural gas and biogas combustion engines. It's suitable for use with engines of up to 16 cylinders and runs on a standard standalone, low-power intake of 24 V/7.5 Amps. Two variants are available to buy – the 791973-8 for up to 8 cylinders and the 791973-16 for up to 16 cylinders.
The NGI-1000 is an advanced spark energy control system designed to provide maximised combustion assurance on both lean-burn and biogas engine applications where the air/fuel mixture is often difficult to ignite and maintain. Both spark current and duration can be adjusted externally via Modbus RTU to insure complete dynamic control of the delivered spark energy for all engine operating conditions. This makes it an ideal choice for generation sites producing biogas, wood gas, waste gas and sewage gas to generate electrical power and heat (CHP).
Special Features
Current vs. time energy control
Spark current selectable from 50-200mA and durations up to 1000µS
Accepts magnetic, Hall-Effect, and powered-inductive-style pickups
Rugged aluminium enclosure to ensure a high standard of environmental protection
Comprehensive system diagnostics for simple troubleshooting
Unique LED "Blink System" to provide at-a-glance system diagnostics on the unit.
Altronic Products From R & M Walsh
R & M Walsh supplies the Altronic NGI-1000 to our customers throughout the United Kingdom, alongside thousands of other gas engine ignition parts and systems. Call or email us today for more information.