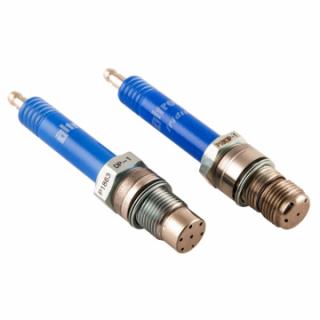 As one of the UK's official Hatraco suppliers, we are extremely impressed by the Dutch supplier's latest range of pre-chamber spark plugs on offer.
Hatraco is one of the world's leading specialists in ignition and control products for industrial gas and diesel engines, and already sells an impressive selection of components – used in a wide range of applications. So we were very interested to get our hands on their latest spark plug range.
We weren't disappointed. Their new pre-chamber spark plugs combine high energy ignition with pre-chamber plug technology, to allow engines to operate on a leaner fuel mixture without the risk of misfires. The result is a technology that at the same time allows sustained high power output and low emissions – without compromising the lifespan of the component.
What's Great About The New Pre-Chamber Spark Plugs?
Compared to some other spark plug brands, the latest pre-chamber spark plugs deliver consistent high performance, offering:
Improved durability: Pre-chamber spark plugs have a longer working life, are less susceptible to faults and require less maintenance;
Increased engine efficiency: The patented pre-chamber design results in improved engine performance, with higher power output and lower fuel consumption;
Reduced emissions: Using pre-chamber spark plugs improves the green profile of your engine, lowering particulate matter and NoX emissions over the lifespan of the engine;
Reduced risk of spark plug gap blockage: The siloxane prevents blockages and reduces the risk of misfires and electrical short-circuits.
Applications:
The new pre-chamber spark plug range supplied by Hatraco is purpose-designed for use with a selection of market-leading industrial gas engines.
Off-the-shelf options include:
Caterpillar CAT 3500 series
Waukesha APG 1000
MTU 4000 series
MWM range
Guascor HGM series
Guascor SFGM series
The spark plugs – which are all 18 mm diameter – can be adjusted to fit other applications by changing the sleeve and some other settings. If you let us know about your engine specifications we can suggest an appropriate solution for you.
Your One-Stop-Shop For Spark Plugs And Ignition Systems
R & M Walsh is one of the UK's leading independent suppliers of spark plugs and ignition products. We stock an extensive catalogue of spark plugs by leading brands, combined with personal advice and after-sales support.
Check out our main website for details of our current availability. If you're unsure of the part you need, simply give us a call for our professional recommendation.