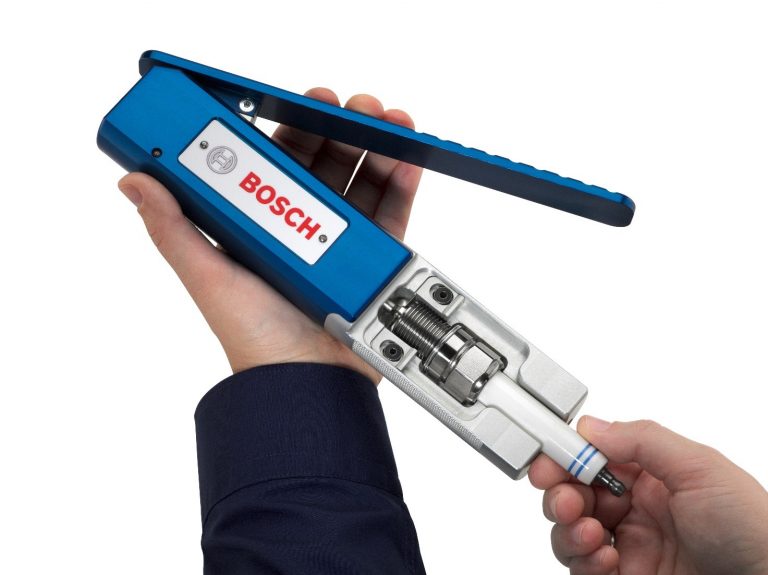 The Bosch Spark Plug Re-gapping Tool is a new, adjustable device for making sure that your spark plugs are properly configured for optimum performance. The Spark Plug Re-gapper contains a prising lever and a fixed distance gauge to make sure that your Bosch spark plug electrodes are calibrated to the exact distance apart that they should be. The component is recommended for use with the latest, certified, high-quality Bosch M18 iridium spark plugs.
What Does The Bosch Spark Plug Re-Gapping Tool Do?
The Bosch Re-gapping tool is a simple, no-fuss device to ensure that your spark plugs can be reconfigured to an optimum position without the risk of damage from over-bending. The tool itself consists of a chamber and a clamp into which the spark plug is placed. When the handle is depressed, the clamp automatically configures the spacing of the spark plug pins to a close operational distance. This ensures the spark plug has a better rate of transmission, lasts longer, and reduces the risk of human error when spacing the spark plug's exterior contacts.
Only a few seconds of work are needed to adjust each Bosch spark plug to the optimal spacing distance. An integrated force limiter makes sure that the pins cannot be depressed, twisted, or otherwise broken by the force of the spacing tool. To ensure that it works properly, only approved Bosch spark plugs should be used with the Bosch Spark Plug Re-gapping tool.
If you're interested in learning more about the Bosch Spark Plug Re-gapper, Bosch have an official video tutorial for their customers to watch on YouTube.
Spark Plug Tools From R & M Walsh
At R & M Walsh, we stock a wide range of Bosch spark plug and engine products, including the Re-gapping Tool. Call, email, or browse our website today to find out more about our range of industrial engine components.