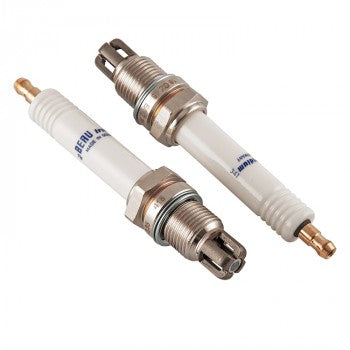 FBM80WPN / FBM80WPNS
18GZ46 / 18GZ47
Spark plugs for stationary gas-operated industrial engines must be able to withstand non-stop operation while demonstrating considerable durability over long replacement intervals. The Federal-Mogul/Beru heavy duty spark plug range is manufactured from the highest quality materials and are very resistant to combustion, offering longevity and excellent performance – and they are available now from R & M Walsh.
What Do You Need To Know?
Developed to achieve impressive lifetime runs in excess of 15,000 operating hours in open chamber applications, the FBM80WPN and FBM80WPNS iridium platinum high-performance industrial spark plugs offer fantastic durability and reliability, without compromising performance.
With a 45mm² electrode surface area and a 12mm projection, the FBM80WPN and FBM80WPNS spark plug, with its quad-ground electrode design, also offers consistent, repeatable ignitability, providing reliable service in Jenbacher Series 3 and Series 4 gas engines.
What Features Does It Have?
The FBM80WPN/FBM80WPNS Iridium Platinum High-Performance Industrial Spark Plugs boasts several important features that enable them to offer the durability that is necessary for efficient and reliable operation in-plant machinery:
Robust quad ground re-gappable electrode design;
Mechanical strength achieved by a highly durable ceramic insulator;
IFISS technology maintains a tight resistance window even across different voltages, making it ideal for high temperature, high load applications;
Hot lock shell assembly ensures a tight lock between the shell and the core assembly to reduce leakage at high pressure;
Optimum firing end to facilitate enhanced ignitability.
Applications:
The FBM80WPN and FBM80WPNS spark plugs are perfect for Jenbacher Series 3 and Series 4 engines which are fuelled by biogas, natural gas, or landfill gas.
Manufactured to high standards and resistant to combustion, these spark plugs are particularly suited to applications that require machinery to be in constant operation, where the process is interrupted only for necessary maintenance and wear parts are replaced only after long intervals.
R & M Walsh: For All Your Ignition Products
For more information on the Federal-Mogul/Beru heavy duty spark plugs, get in touch with R & M Walsh with details of your requirements and our team of experienced professionals will be delighted to assist you, to ensure you obtain the ignition parts you need for the reliable operation of your plant.